KGH digital progress enhances safety during pandemic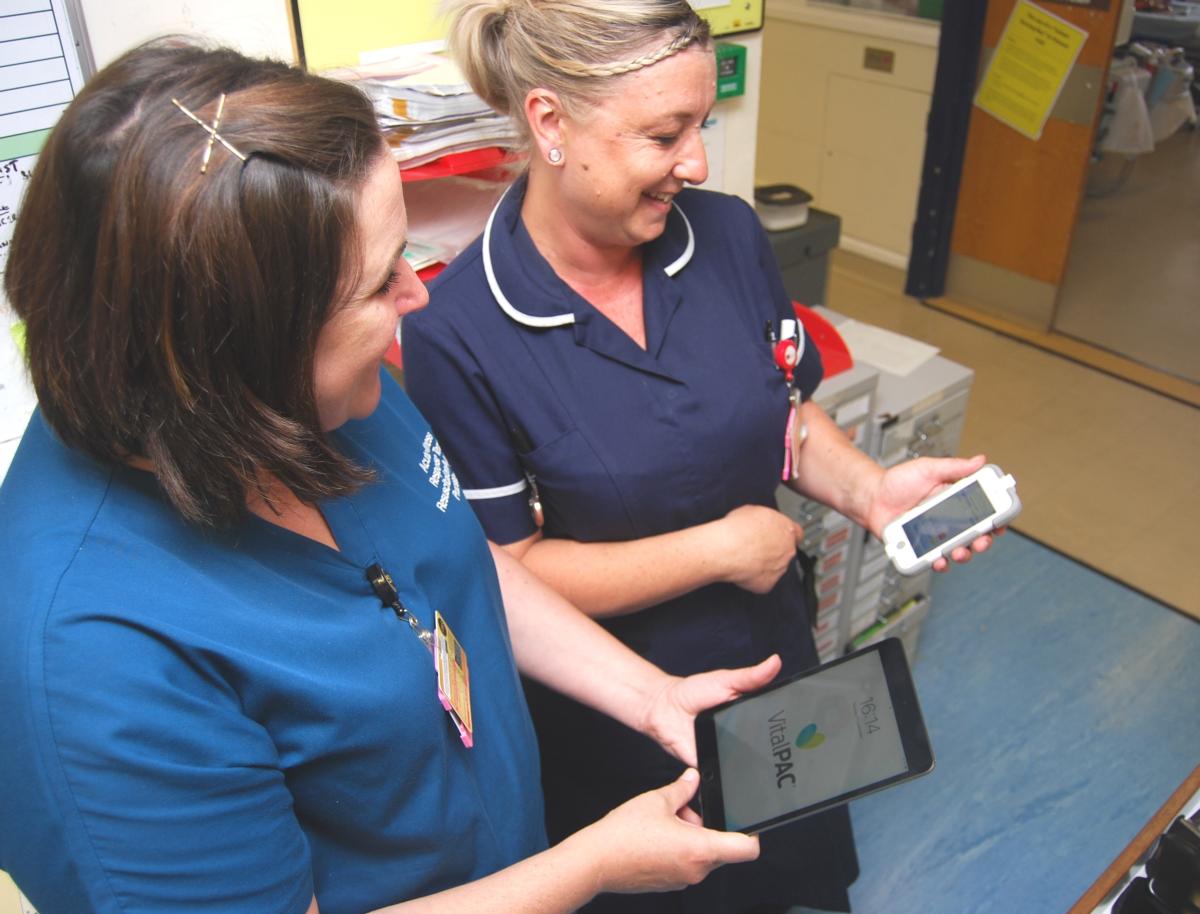 Kettering General Hospital is using a digital transformation programme to help it to improve patient safety during the Covid-19 pandemic.
The Trust began its transformation work in 2018 and has the ambition of becoming the most digital hospital in England.
In 2019 it successfully brought in hand-held digital devices which enable doctors and nurses to record patient observations and spot early signs of deterioration (a system called Vitals).
It has also introduced a secure text and picture messaging system called CareFlow Connect, which enables staff to perform electronic patient handovers and better co-ordinate patient care.
The CareFlow Connect app – developed by System C – started to be rolled out to KGH doctors and nurses and other clinical staff for messaging and electronic handovers in December 2019.
By mid-April this year, at the peak of the coronavirus, it was being used 1,100 clinicians, who together used the app to perform over 24,000 e-handovers in May.
Consultant Gastoenterologist, Dr Ajay Verma, one of KGH's Chief Clinical Information Officers, said: "We started rolling out CareFlow Connect late last year because it represents an exciting development for patient care.
"It enables an electronic record of patient handovers between clinical staff and provides much wider visibility, is safer and less labour intensive than using old-fashioned paper-based systems.
"Its use has proved invaluable in dealing with Covid-19. Usage in the intensive care unit increased 400% from March to April, during the height of the pandemic, where it was facilitating team handovers by providing up to date clinical summaries accessible away from the bed space."
This kind of electronic communication means there is less of a need for face-to-face contact reducing the need for changes in PPE, and photos of symptoms can be shared with colleagues off-ward. Electronic handovers and referrals are also paperless, reducing the risk of paper-borne transmission, while the shared information all links back into the EPR.
Andy Callow, Chief Digital Information Officer at Kettering, said: "Our digital programme is extensive and will run over several years with the ambition of becoming the most digital hospital in England by July 2023..
"We are closely working with System C as one of the key enablers of this digital journey and we're already seeing tremendous benefits for clinical documentation and communication in ways that enhance patient safety."
Other benefits of the hospital's digital programme include the integration of pathology and patient administration systems, so clinicians receive automated, audible alerts on their mobile device when a new positive Covid-19 is received.
KGH is also now rolling out CareFlow's e-referrals capability, starting with specialties. Clinicians are already reporting that it is speeding up the referrals process and allowing them to track their referrals more effectively. It is also planning to use the app for referrals between KGH and neighbouring Northampton General Hospital, another CareFlow user.
On June 16, the Trust held a webinar for staff locally, and from other Trusts, on its progress so far which included a short film featuring KGH staff using the system - https://www.youtube.com/watch?v=peyg-DrrUJg&feature=youtu.be