Home birth service up and running again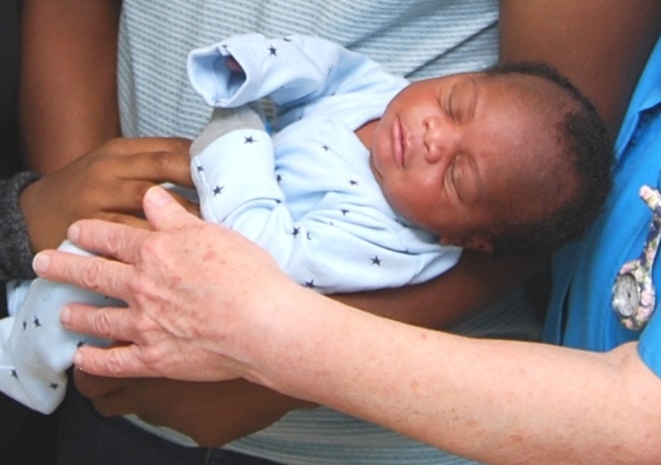 Kettering General Hospital's community midwife service for families who want a home birth has been restarted this month (May).
The service was temporarily suspended during early part of the Covid-19 outbreak because more staff were needed within the hospital itself to ensure safe maternity care.
Now the new arrangements to protect against Covid-19 in maternity have been successfully embedded the home birth service has been restarted.
Head of Midwifery Mara Tonks said: "We think it is very important that pregnant women have appropriate expert midwifery support around their birth.
"In the initial response to Covid, like many hospitals across the country and in line with NHS England recommendations/guidance, we made several adjustments to the way in which maternity services were being delivered to appropriately stream services.
"For example ensuring symptomatic and asymptomatic patients are cared for in different ward areas.
"This came at a time when staff absences were also above normal because either staff or their household members were symptomatic or because of the need for some staff to shield themselves from front line work due to health conditions.
"Now we have seen a reduction in staff absence and have been able to use our shielding members of staff deliver care by using technology, safely in their homes (i.e telephone clinics etc) we have been able to release staff to reinstate our home birth service.
"We have also welcomed ten third year student midwives to the front line who are, with supervision, also supporting front line maternity services."
The Home Birth service involves dedicated support for families who have requested home births being provided by on call community midwives. The Trust has worked in conjunction with the East Midlands Ambulance Service to ensure there is paramedic support if required.
Families who want a home birth – and where no family members have Covid symptoms – can now request one. Community midwives will attend labour wearing appropriate personal protective equipment to ensure a safe birth.
Families cannot have a home birth if family members are suffering from Covid symptoms. Birth would then be supported within hospital where arrangements are in place to support mums with Covid symptoms and their babies.
The service will progress initially on a case by case approach for women with low risk pregnancies in line with national guidance.
Women are able to contact their Community Midwifery team for further information who will in turn arrange for a home birth assessment to be undertaken to ensure a home birth is suitable.
Mara said: "We want to thank all of the families who have needed our services during Covid for their co-operation with our new ways of working. We are delighted to now be able to offer support for home birth once again."
Maternity arrangements at KGH
All pregnant mothers registered with KGH receive information and guidance on how to access services during the Covid emergency.
This information is shared with women by their community midwifery team, by visiting our hospital website maternity services page, using our 'community midwives KGH' Facebook page and also available on Northamptonshire Maternity Voices Partnership Facebook page and website.
The maternity team has also set up a Covid Helpline which is now available Monday-Friday 9am-5pm where women can speak to a midwife with any concerns specifically related to their care and Covid. Numbers for this are available on the Maternity Services page.
It is vitally important that pregnant mothers do inform the team if they have coronavirus symptoms so that appropriate arrangements can be in place for their care. Women must also contact us if they experience any pregnancy related concerns such as reduced fetal movements, bleeding or pain. We are here to support women 24/7.
Local families should be reassured that we are doing everything possible to maintain high levels of infection control and clinical safety in our maternity department. This includes introducing questions and temperature checks in our maternity reception. We are also swabbing all admissions (greater than 4 hours) regardless of whether or not they are symptomatic of COVID.
Maternity staff will also be wearing appropriate protective equipment when caring for all women. In addition the department is giving families clear rules to follow regarding access to the maternity department.
These include:
· Women with symptoms of COVID-19 should inform the Trust prior to any visit
· Women may bring a birth partner into hospital with them – so long as the birthing partner is not symptomatic.
· No visitors will be allowed other than one designated birth partner. This designated person cannot be interchangeable and absolutely should not attend if they have symptoms.
· Other people will not be able to accompany women to scans or other appointments in the Rockingham wing unless there are extenuating circumstances which require someone else to be present. If you believe you have extenuating circumstances, please contact the department you will be visiting before you attend to discuss this further.
Community midwives are still undertaking home visits for essential antenatal and postnatal care and are still continuing to see women in antenatal clinics. Community midwives are converting face to face clinics to telephone clinics where possible and in line with national guidelines.
We strongly encourage a discharge home from the hospital as soon mums have recovered from their birth.